Welcome to ASCON Paving & Concrete
HRM's #1 choice for paving and concrete
Established 2003
We can provide estimates with no physical interaction by phone discussion and emailing or texting the quote.
ASCON, a full service paving company, is one of the most recognized and respected in Metro Halifax. Our reputation comes from quality workmanship and excellent service and we pave every driveway as if it were our own. We specialize in excavation and base prep for asphalt and concrete driveways and parking lots. We also provide various types of concrete applications such as driveways, steps, landings, borders, and retaining walls. Our crew is certified in CPR and First Aid, as well as traffic control and temporary work place signage.
Wayne, the owner/operator, is on-site for every job so you can rest assured that the job will be done right. He comes from a strong background in the industry and has been in the paving business since 1987.
ASCON Paving & Concrete has a working relationship with reputable landscapers in the HRM. By making one call to us we can co-ordinate your project in a timely fashion, often resulting in savings to the home owner.
Hiring ASCON Paving to address your paving and concrete needs will be one of the best decisions you will make. We stake our reputation on it!
Making the right choice when deciding on a paving company can be tricky. We'd like to help you by answering common questions we have come across over the years.
Answers to Common Questions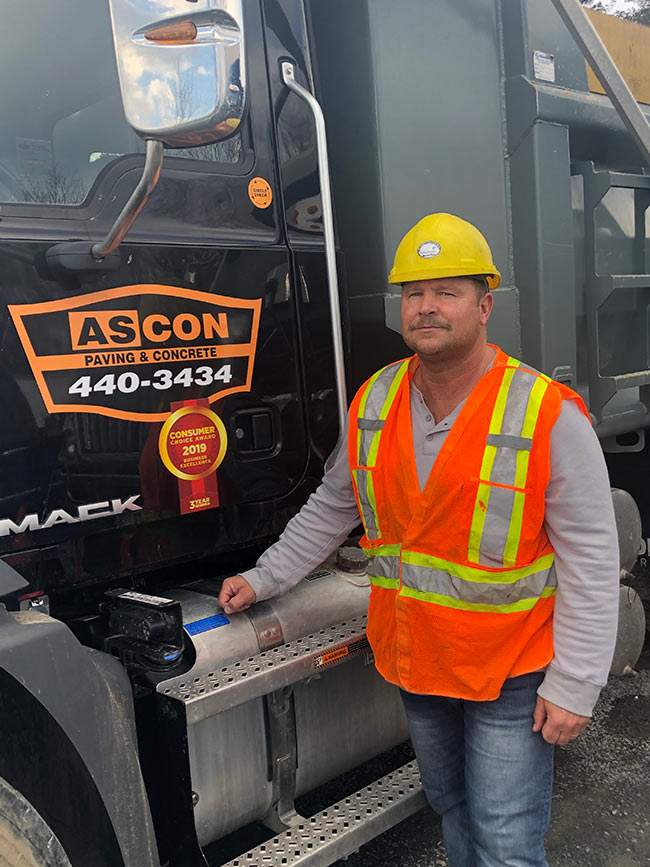 Fair, honest and reliable is what I appreciate when hiring any contractors for my home projects and that is nothing less than what I will provide you with when hiring my company.

Wayne H Robson
Owner
ASCON's Code Of Ethics
Serve our customers with honest values.
Tell the truth.
Tell the customer what they need to know.
Be prepared and willing to make good on our guarantees.
Reveal all material facts which otherwise might cause customers to be misled.
Refrain from attacking or reflecting unfairly on competitors.
Avoid tricky devices and schemes.
Residential Projects
Driveways, walkways, landings, resurfacing, asphalt protection and retaining walls.
Review our Photo Galleries
Add curb appeal with Accents
Adding different accents to your project will enhance your curb appeal such as borders, walkways and landings.
Review our Photo Galleries
A few of our Happy Clients
They didn't waste a minute of time, and were all very particular in each aspect of the job from the beginning to its completion. I love my driveway!
You delivered a top quality job very efficiently and more then met my expectations. Your employees really knew their business.
You were fantastic and the work was first class for a reasonable price.
It's evident to us that the attention to detail given to the appearance of your equipment and crew also reflects on the resulting product.